The Isabella Blow Foundation and Hudson's Bay to Present First International Exhibit of Fashion Icon Isabella Blow's Collection
September 2, 2014, Toronto, ON - The Isabella Blow Foundation and Hudson's Bay are thrilled to announce "Fashion Blows", a fundraising event and exhibit celebrating the extraordinary life and wardrobe of the late British patron of fashion and art, Isabella Blow. The events, set to kick off in Toronto on Wednesday, October 22, 2014 with a fundraising dinner hosted by British style icon Daphne Guinness and Liz Rodbell, President, Hudson's Bay and Lord & Taylor, will mark the inaugural international event and exhibit. Following the success of Fashion Galore! at Somerset House, England last year, The Isabella Blow Foundation wanted to bring the exhibit and fundraising initiative to an international audience and have realized this dream through their partnership with Hudson's Bay.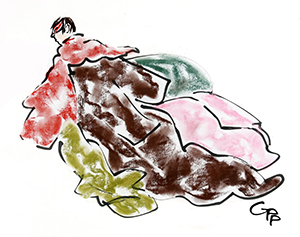 "Hudson's Bay is committed to delivering unique experiences to our customers and to enhancing the communities in which we do business," said Liz Rodbell, Honourary Co-Chair, Fashion Blows. "We are honoured to partner with The Isabella Blow Foundation to support our common objectives of fostering Canadian design talent and supporting mental health charities. To stage this first international fundraising event and exhibition at The Room at Hudson's Bay, an environment where fashion is celebrated every day, is a privilege."
The Isabella Blow Foundation and Hudson's Bay have established a Toronto-based committee for the event, which will be chaired by Suzanne Rogers. Funds raised will sponsor a Canadian fashion student to join the MA programme at Central Saint Martins in London, England, and will also support the Centre for Addiction and Mental Health (CAMH), Canada's leading hospital for mental health, based in Toronto. Corporate sponsors for the fundraising dinner include: Supporting Sponsor: Aimia, and Hotel Sponsor: Shangri-La Hotel, Toronto.
Fashion Blows will open to the public at The Room at Hudson's Bay, Queen Street on October 23 and will showcase a number of significant pieces from The Isabella Blow Collection; one of the most important private clothing archives of the late 20th Century/early 21st Century, now owned by Daphne Guinness. This includes garments from the many designer talents she discovered and launched, such as Alexander McQueen, Philip Treacy and Hussein Chalayan, amongst others. The capsule exhibit will run for 16 days and admission is free of charge.
"The Isabella Blow Foundation is delighted to partner with Hudson's Bay for our first international showcase and fundraiser," said Daphne Guinness, Honourary Co-Chair, Fashion Blows. "Our vision was to establish a global travelling exhibit of Isabella's wardrobe and inspire budding fashion designers around the world. Isabella Blow made our world more vivid, trailing colour with every pace she took. It is a sorrier place for her absence. When I visited her beloved clothes in a storage room in South Kensington, it seemed quite clear the collection would be of immense value to a great many people. I do believe that in choosing to exhibit them we are doing the right thing – and that it is what she would have wanted. I am doing this in memory of a dear friend, in the hope that her legacy may continue to aid and inspire generations of designers to come".
Born into the rarefied world of British aristocracy, Isabella's thirty-year career began in the early 80s as Anna Wintour's assistant at US Vogue. On her return to London in 1986 she worked at Tatler followed by British Vogue. In 1997 she became the Fashion Director of the Sunday Times Style, after which she returned to Tatler as Fashion Director. Driven by a passion for creativity, Isabella is credited for having nurtured and inspired numerous artists and designers.
Isabella is also known for discovering models Sophie Dahl and Stella Tennant, and for her collaborations with major photographers such as Steven Meisel, David LaChapelle and Sean Ellis, which pushed the boundaries of convention in her increasingly provocative fashion spreads and established her as a legendary figure within the international fashion and contemporary art worlds.
About Hudson's Bay Company Department Store Group
Hudson's Bay Company Department Store Group comprises Hudson's Bay in Canada and Lord & Taylor in the United States. Hudson's Bay Company, founded in 1670, is North America's longest continually operated company, and Hudson's Bay is Canada's most recognized department store, with 90 full-line locations, one outlet, and thebay.com, unsurpassed in its fashion, beauty, home and accessory designers and brands. Hudson's Bay provides stylish, quality merchandise at great value, with a dedicated focus on service excellence. Lord & Taylor, founded in 1826, is America's oldest department store and one of America's premier retailers, with 49 full-line store locations throughout the Northeastern United States, two major cities in the Midwest and one major city in Florida, four outlet locations, and lordandtaylor.com. Lord & Taylor has built a reputation for attentive customer service and high-quality merchandise focused on apparel and accessories. Hudson's Bay Company trades on the Toronto Stock Exchange under the symbol "HBC".
About CAMH
The Centre for Addiction and Mental Health (CAMH) is Canada's largest mental health and addiction teaching hospital, as well as one of the world's leading research centres in the area of addiction and mental health. CAMH combines clinical care, research, education, policy development and health promotion to help transform the lives of people affected by mental health and addiction issues.
About The Isabella Blow Foundation
In its infancy, The Isabella Blow Foundation aimed to develop, curate and establish an exhibition of Isabella's iconic wardrobe. Isabella Blow: Fashion Galore! was proudly opened to the public at Somerset House in November 2013, to rave reviews. It ran for four months. The Foundation's current objectives are to travel key pieces around the globe and to encourage aspiring art and fashion students. It has created and implemented a scholarship fund through Central Saint Martins College of Art and Design in London, which sponsors students through their studies. The Foundation also aids selected charities that promote mental wellbeing and raise awareness within this sector.
About Central Saint Martins College of Arts & Design
Central Saint Martins is internationally renowned for the creative energy of its students, staff and graduates, with an exceptional reputation for educating foundation, undergraduate, postgraduate and research students in arts, design and performance. CSM's award-winning campus at Kings Cross opens opportunities for creative collaboration and has provided an outstanding social scene for students.
Alumni include Pierce Brosnan, Sarah Burton, Jarvis Cocker, Matthew Collings, Terence Conran, Peter Doig, Anne-Marie Duff, Michael Fassbender, ColinFirth, Gilbert and George, Antony Gormley, Tom Hardy,Dylan Jones, Christopher Kane, Stella McCartney,Helen McCrory, Alexander McQueen, Phoebe Philo, Sandy Powell, Raqib Shaw, Penelope Wilton, Joe Wright.
CSM is part of University of the Arts London, an international centre for innovative teaching and research in arts, design, fashion, communication and the performing arts.
The Isabella Blow Foundation International Scholarship
The MA Fashion course at Central Saint Martins is very grateful to benefit from the support of The Isabella Blow Foundation and Hudson's Bay in providing this unique opportunity for a Canadian student to study on the MA Fashion course, and in the generous support for the continuation of Professor Louise Wilson's legacy of world leading excellence in post graduate fashion education at CSM.
For more information, please contact:
Michelle Veilleux
Senior Manager, Public Relations
Hudson's Bay
michelle.veilleux@hbc.com
416-256-5182
The Isabella Blow Foundation
Isobel Gorst
isobel.gorst@gmail.com